Contact and access to La Closeraie
To contact the guest
Tel : +33 (0)9 54 52 77 48
GSM : +33 (0)6 82 43 26 39
Address : B&B La Closeraie, 6 rue du Commerce - 37210 VOUVRAY (France)
How to reach La Closeraie
Vouvray is located about 2 hours drive or 1 hour by train from Paris.
The guesthouse is located in the heart of Vouvray, between the town hall and the church.
GPS coordinates : Latitude 47.41222 ; Longitude 0.799722
Google Maps dynamic map :
Agrandir le plan
Itinerary from Paris

- From Paris using the A10 highway, follow Orleans, then Tours.
- Take exit # 20, Vouvray

- After the fire, go around the roundabout and follow the RN521 towards Rochercorbon and Vouvray.

- At the next roundabout, take the third exit towards Rochecorbon and Vouvray.

- Follow the RN 152 towards Vouvray via Rochecorbon.

- After the village entrance sign, turn left at the traffic lights (rue Victor Hugo). Take the first right (rue de la Verrine) then first left (Avenue Gambetta), through the town center (rue des écoles) and continue straight. You get to the fork between the rue Gambetta (left) and the rue du commerce (right). Turn right. You have arrived.
- There are free parking slots in the street, or at the end of the street in front of the church.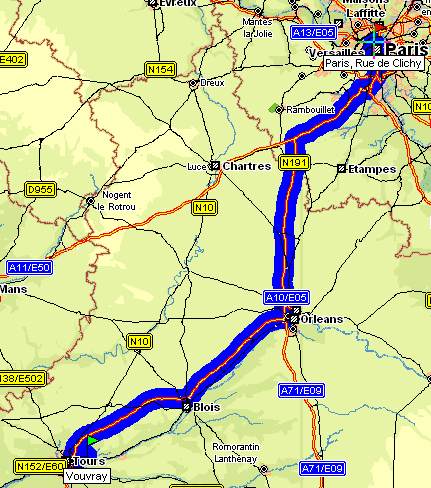 From Tours to Vouvray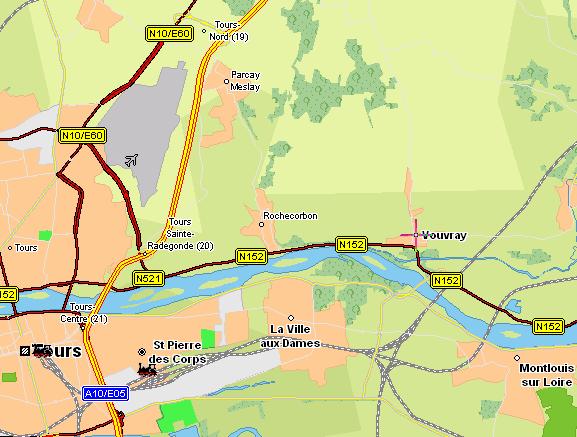 Inside Vouvray...